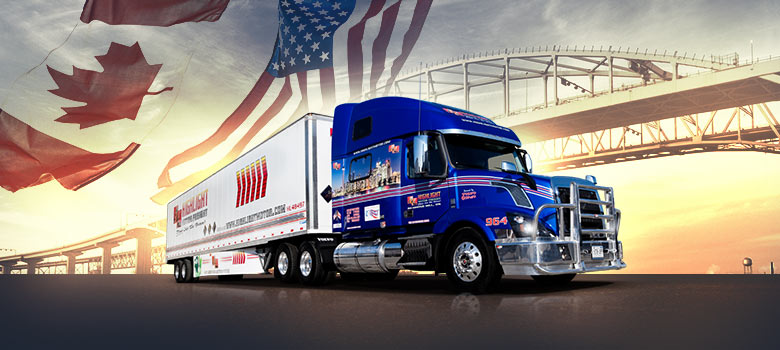 Scheduled LTL and Truckload service
Our beginnings had us crossing the border between Canada and the USA on a daily basis and that hasn't changed. One truck grew to ten, 10 grew to 20 and now we have total over 1300 pieces of equipment to serve your transborder requirements.
Our dry van and temperature controlled fleet operates within Canada and between Canada and the USA. We are participants in all border security initiatives and are a Canada and U.S. Customs Bonded carrier. Our key service areas are:
Service triangle 1
We run the Greater Toronto Area (GTA) to U.S. Eastern Seaboard States such as New York, New Jersey, Massachusetts, New Hampshire, Connecticut Rhode Island, Pennsylvania, Virginia, North and South Carolina… and back.
Service triangle 2
We run to and from the Greater Toronto Area (GTA) and Western Canada, as well as south to California then back to the GTA and Montreal.
Service triangle 3
We run the Toronto area (GTA) to Chicago, Illinois, Kansis City, Missouri, Wisconsin, Texas and back as our midwest USA service triangle.
Direct Service
Virtually any two points can be connected with a combination of LTL and Truckload commodities within our Transborder service structure.
A few examples include:
Milwaukee to Calgary
Newark to Calgary
Philadelphia to Vancouver
Newark to Edmonton
Chicago to Calgary